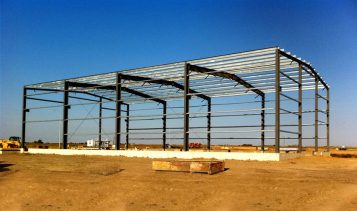 THE INNOVATIVE CONCEPT OF PRE-ENGINEERED BUILDINGS
posted by:

Admin

No Comments
When talking about pre-engineered buildings, what does it mean? Pre-engineered buildings or PEB also known as precast and prefabricated structures, is basically a civil engineering term with a process of fabricating a structure using raw materials to achieve both the design and strength of a building. It is carefully managed by PEB manufacturer where steel frame components such as I-section beams and columns are being developed. Moreover, PEB structure is much lighter in weight compared to aluminum and concrete made building constructions.
Pre-Engineered Buildings Innovative Design And Diversified Application
Pre-engineered structural design has been widely used by almost all types of industry including institutions, commercial establishments, offices, public landmarks, high rise buildings, recreations and a lot more. The design processes are quick and efficient since it implements standard structural system involving 3-piece built-up members that are welded and bolded together to form a frame. The draft and final design are produced through a computer program which will be approved by the owner and civil engineer.
How Pre-Engineered Buildings Work
To successfully complete a PEB structure including its components, the following work and design processes must be executed accordingly;
Design Processes
Create the locations of section and brace for framing.
Compute the dimensional structural members including its allowables and stress ratios.
Create the design and confirm if the measurement fits the manufacturing constraints.
Update structural file for necessary changes.
Continuous analysis for checking flange brace system adequacy
Work Processes
Cutting of plates
Beam welding
Fitments fabrication
Surface cleaning for painting preparation
Cutting and threading rods
Profiling Sheets for roofing and cladding
Procurement
Fabrication of bracing
Slitting HR coils
Manufacturing Gutters
Sorting out other accessories
Quality control and inspection
Dispatching
Nowadays, there are over 70% of non-residential structures utilize pre-engineered buildings.
This structural design and concept is now considered a logical option when innovative design,
affordability, durability and aesthetic are required.
Talk to Us Today!
Stewart Zentner
General Manager
Toll Free: 1-888-826-1799
Contact Us: HERE