Trust Zentner Steel Buildings to Build Your Steel Buildings Red Deer

Red Deer has created over 65,500 jobs and its growth is lead by more than 4,000 businesses. It is a diverse economy that's actively contributing to Canada's economic growth story. The city is set to continue to grow and is expected to create 10,000 new jobs by the year 2021. In recent years, a select few industries such as mining, agriculture and manufacturing have experienced massive growth. The retail industry is the largest contributing industry into the Red Deer's economy. Red Deer has also emerged as a healthcare hub and the health industry has experienced growth rates over 9% in recent years. The energy sector, particularly oil and gas production, has employed over 5,619 people. All of this is great news for other industries that are bolstered by this success and are contributing significantly to Red Deer's economy including manufacturing and transportation industries. All of these industries are growing in the area and need industrial buildings to cover their needs. This is where Zentner Steel Buildings are helping them by building steel buildings Red Deer that flawlessly serve their industry and fulfill their core business interests.
We are a Well-Trusted Steel Buildings Contractor in Red Deer
Zentner Steel Buildings has been involved in the steel buildings Red Deer construction business for over a decade. What are the benefits of working with a well-established and well-trusted provider? We know the ins and outs of the steel building construction industry and that means we'll deliver you great results. Our clients vouch for the long-lasting structural steel buildings Red Deer that we have delivered and we're proud to say we already have a long list of happy clients that keeps growing over time. All of our success is thanks to our hard-working designers, engineers and technicians who fulfill their commitments of delivering things on-time and to the very best quality. Got a project in mind? Let's talk!
Ask us for Maintenance-Free Galvanized Steel Buildings! Contact us to Discuss Your Project!
We Ensure Safety in Steel Buildings Delivery and Construction
Giving you the safest option for plant buildings Red Deer construction is always our number one priority. Rest assured that you will have the modern factory buildings Red Deer erected in a budget while following the highest safety standards and in compliance with local building code. We design and rigorously test our steel building structures so that they perform extremely well and ensure the very safest environment.
Zentner Steel Buildings is CWB certified so you can rest assured that you will receive the very highest quality work in compliance with the toughest safety standards set by authorities. The factory buildings Red Deer that we have developed decades ago in the past are still working and our clients are still satisfied. Our long list of satisfied past clients reflects our commitment to quality and safety. Work with us today and let us help you to fulfill your business expansion plans with the safest warehouse buildings in the region.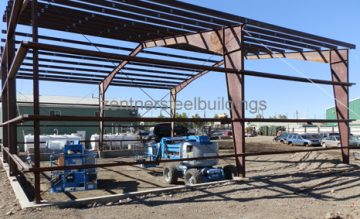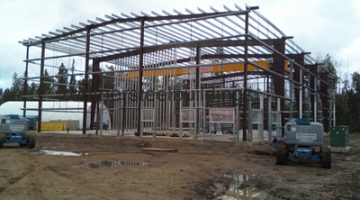 We Keep Pace with Trending Technologies in the Industries
Offering you an innovative solution for steel buildings Red Deer is our focus. This is why we stay tuned with the latest technology and trends in the steel building construction industry. We don't miss a beat, staying updated with the industry so that we can implement the latest in styles and concepts in your plant buildings Red Deer. We strive to provide you with the most modern steel building offering that cuts down costs, improves efficiency and supports your business. Got a project in mind? Let's talk!
Call Zentner Steel Buildings at 1-888-826-1799 to Get the Safest Steel Building Construction in Red Deer!