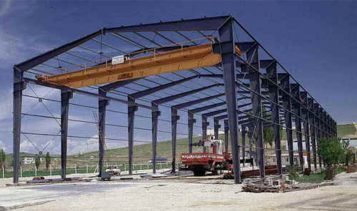 PRE-ENGINEERED BUILDINGS VS. TRADITIONAL BUILDING CONSTRUCTION – UNVEILING THE DIFFERENCE
posted by:

Admin

No Comments
In this fast moving industry of Architecture and engineering, understanding the difference of contemporary and traditional building construction is very important to avoid future problems and achieve long term benefits. Along with knowing their discrepancies is learning the advantages and disadvantages of using such construction services and materials for commercial and industrial projects.
In case you are planning to start a new project and still confused on what you will choose between pre-engineered buildings and traditional buildings, here's a brief comparison explaining the huge differences of the two;
Traditional Buildings
Traditional construction system implements structural processes using elements (masonry or wood) that are constructed largely on-site. This is popular among all projects and is usually offer an extensive history of use. Traditional building construction mainly includes cement, bricks and tiles but as the design becomes more complicated and the demand for various materials arises, so as the production of many building materials from manufacturing companies.
The basic traditional construction processes include;
 Custom floor plan (electrical, plumbing system and entire house design)
 Foundation (excavation, footings, concrete slabs and wall foundations)
 Framing (framing skeleton, exterior sheeting, windows and doors installation)
 Interior and exterior work (insulation, heating and cooling systems, painting, flooring, cabinets and punch list)
PROS: Materials are readily available, energy efficient, products can be recycled, exceeds sound insulation requirements, flexibility of design in consideration to health and well-being, adaptable and last several centuries.
CONS: High cost of labor, materials and additions, requires thorough maintenance, weight can weaken the foundation over the years, lots of waste during construction
Pre-engineered Buildings
Pre-engineered buildings are constructed through pre-fabricated elements delivered by a factory to the site based from the designer's or builder's request. This structural design is well known in many commercial and industrial establishments that basically involves roofing and wall cladding. This structure system consists rigid framing that are formed into I-shape to complete the roof, beams and columns.
Pre-engineered buildings are done through the following methods;
 Primary Framing
 Roof panels (roofing system in vertical rib or classic roof)
 Wall panels (classic, reverse, accent or liner)
 Deck panels
 Structural sub-systems
 Accessories and sundries
PROS: Reduced construction time, light weight, affordable, easy to construct, fast erection time, flexibility of expansion, clear spans, low durability and maintenance, energy efficient, no waste during construction
CONS: cheaper option might compromise strength of structure, requires building permit, needs added insulation
Pre-engineered and traditional buildings are useful on their own way. Choosing the right structural design and materials is depending upon your project needs. If you are not sure whether to go modern or conventional, always consider certain factors such as aesthetics which basically reflects your lifestyle, availability of the materials, durability, life cycle costs, safety, comfort and sustainability. Both of these two building processes start the same. However, once the projects started, the two have extremely unique approach and result. The recommendations, plans and management coming from certified professionals such as Architects and Engineers may be required to ensure quality and accuracy of any project requirements.
Talk to Us Today!
Stewart Zentner
General Manager
Toll Free: 1-888-826-1799
Contact Us: HERE