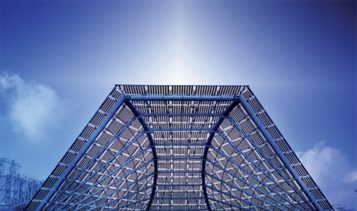 Considering Steel Buildings For Environmental-Friendly And Green Sustainable Buildings
posted by:

Admin

No Comments
Gone are the days for the obsolete metal structures. Pre-engineered or steel buildings are now considered the modern approach of construction and widely used in many green sustainable buildings for its great advantages. An environment friendly structure also known as sustainable building is being enforced by regional sustainability organizations to save the global resources from decreasing as well as fight the climate change.
The implementations of steel buildings in medium to large projects are surpassing the green sustainable buildings objectives while contributing innovative design, simple engineering and low cost materials.
How Sustainable is Steel?
Steel is a fundamentally environment friendly materials as it is being recycled and can be taken down almost all of its components. Green sustainable buildings using steel provides general benefits such as minimal waste, durability, flexibility, long lasting investment, safety, reusability and efficiency. Steel buildings are accepted to be sustainable specifically because it is getting used over and over again, natural resources are not destroyed, less need for waste and energy efficient.
Overall Benefits Of Steel Buildings
Aside from green sustainable buildings that steel can offer, its structural integrity is gained from its overall advantages such as;
1. Easy To Build. Steel framing is pre-fabricated to fit all together from one end to the other. So it is very easy to build, less labour, less debris, no cutting, no hammering and design options are exceptionally versatile.
2. Cost Effective. Since the entire construction of steel buildings is fast and simple with reliable steel frame system, you can save more money from low cost labour and shorter durations. The material is accurately cut according to the desired dimension with minimal waste, so obviously, it doesn't need a lot of employees to manage the cleaning and construction. Fewer employees, less money to yield.
3. Solid, Strong And Flexible. We all know that steel is a very strong and solid building material that facilitates design flexibility. It doesn't distort, chink, buckle or rotate and although it incorporates largest powers in weight ratios, it is lightweight, easy to install and builds solid investment.
4. Safety. Keeping everyone safe is the most important thing in building construction. For environmental conditions such as fire, earthquake and corrosion, steel buildings are highly favored. This building material is tested by experts and demonstrated exceptional performance from unwanted possibilities such as termites, molds, lightning, severe bush fire temperature and distortedness due to climate change. More than just safety, it also provides reliable protection from infrequent wind and other day to day combatants.
Green sustainable buildings are now considered as the world's significant trend in architectural and engineering industry. As soon as you have decided to go green using steel buildings for your next project, it is important to establish a plan as well as consider essential factors such as environmental goals, water conservation, material management and energy efficiency. Major projects that implement sustainable steel construction can guarantee result that meets the test of time and available till the next generations. On the other hand, although green architecture or construction contributes evolving practices, applying the basic principles are still necessary.
Talk to Us Today!
Stewart Zentner
General Manager
Toll Free: 1-888-826-1799
Contact Us: HERE