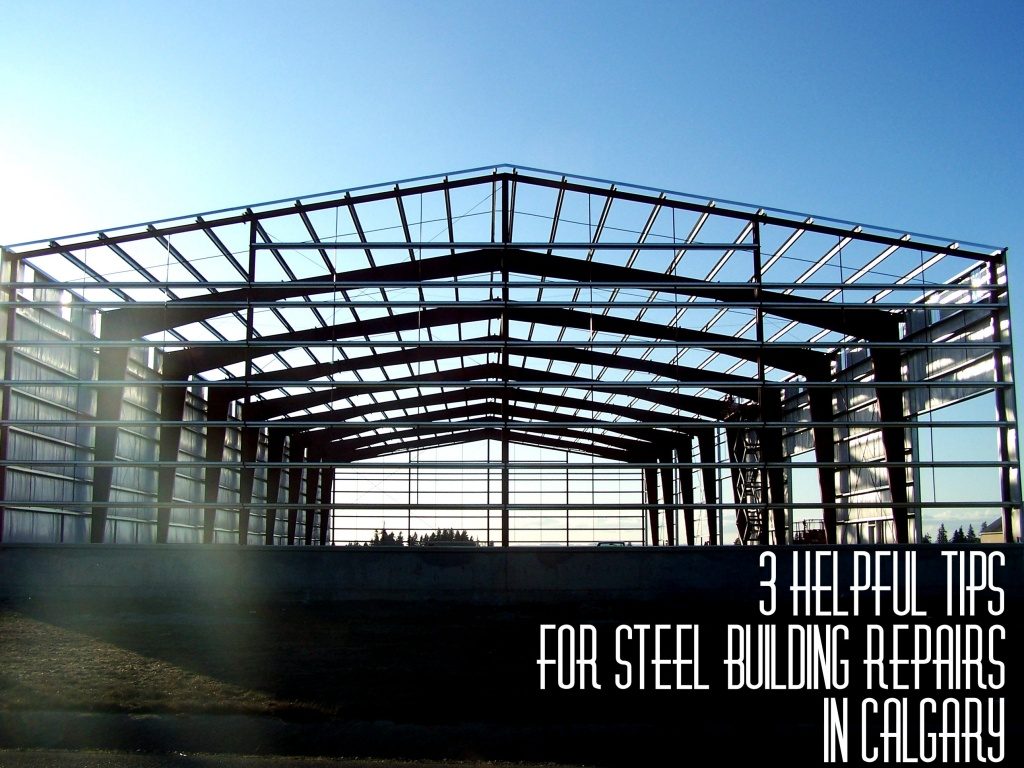 3 Helpful Tips for Steel Building Repairs in Calgary
posted by:

Admin

No Comments
Many steel building owners enjoy a lot of benefits. One of these benefits is having an easy way to maintain their structure and preserve its beauty for a longer period of time unlike traditional buildings. Very few repairs and little maintenance is need by a prefabricated building because of their durability. This makes steel building repairs in Calgary minimal and makes your structure withstand the test of time.
There are only a few maintenance tips that metal building owners should always remember. These tips will help you keep an eye for any possible repairs in the future, making it look new and functional. Building owners must be aware of all the applicable local, state, and federal laws that usually apply to building renovation and maintenance. This should be decided before even the construction of the building.
Although we are aware that prefabricated building kits are easy to put together, you must also remember that the construction of the building can still take several days to finish. It is very necessary to know how steel building repairs in Calgary work during the initial stage of the building's construction. This way, you are ensured that the building is properly erected and proper preventive maintenance is taken into action.
Hire a Professional Contractor
This is probably one of the most important things that you have to consider when thinking about steel building repairs. Yes, steel building kits are delivered in separate pieces and are easy to put together. However, you still have to ensure that the construction process is moving according to how it should be. This is why hiring a professional contractor is important. They can be there to supervise all the construction processes even if you are not around.
Steel Building Kits in Good Condition
Upon delivery of the prefabricated building pieces, you must ensure that each piece is in good condition. Check for any damage, no matter how small they are. This way, you will not be compromising your building's overall stability and longevity. It is a must that each shipment has a master inventory list that came from the manufacturer. Make sure that you receive this master inventory list for you to be able to check for missing pieces. Be sure to go through all the pieces in a thorough inspection upon arrival. After inspection, manufacturers would usually allot a small window of time to be able to replace faulty parts without any penalty.
Check the Building's Insulation
One of the most important components to be able to maintain a proper temperature for your building is through its insulation. Having a damaged or even a weakened insulation can start harmful moisture to build up in your steel building. This will also dramatically decrease the building's effectiveness when it comes to its cooling and heating system, which can cause driving up your energy costs.
All of these tips are very helpful when thinking of having steel building repairs in Calgary, where the weather is extreme. This will give you enough idea on how to care for your building and make it more functional that can last for a long period of time.
How Can Zentner Steel Buildings Help?
Zentner Steel Buildings provide top of the line construction services covering steel buildings and metal frame construction, pre-fabricated steel engineering, warehouse and oil and gas buildings, steel building construction and among others. We cater to various industries including Oil and Gas, Residential, Commercial, Institutions, and others. For over 10 years, we have worked hand-in-hand with small to big businesses and organizations all over Canada.
Talk to Us Today!
Stewart Zentner
General Manager
Toll Free: 1-888-826-1799
Contact Us: HERE