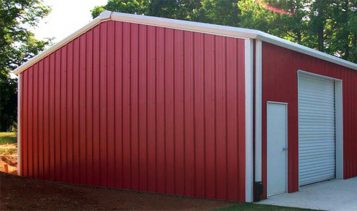 6 QUESTIONS TO ASK BEFORE PURCHASING A DOOR
posted by:

Admin

No Comments
Although most pre-engineered buildings are used to enclose an open space, there are several businesses who invest in steel buildings for other functions like warehouse, garage, stores, etc. Since this type of building is often affordable, and quite easy to customize compared to others, many have gone creative in terms of design, functions and additional modifications.If you have any confusion in your mind regarding questions to ask before purchasing a door then read the complete article.
However, not everyone realizes that something as simple as a door can cause delay and interruptions to your current project. Apparently, choosing the wrong door can cause problems for everyone included in the project. Contractors often have to scramble for a solution, and suppliers are caught in the middle.
Here's an article posted by our friends over at Star Buildings that can help you select the right door for your building. Below is a set of six questions to help you confidently purchase the right door.
Is the door the correct size?
This seems almost too obvious, but doors that are too large or too small for a given building often find their way to the job site. Make sure to check not just the door itself, but all its operating components. This is especially important for retrofit projects which may need to account for existing guides.
Does the door address wind speed requirements?
Different regions require doors that are certified for different wind loads, especially in coastal areas where winds can reach exceptionally high speeds.
Does the door need to be rated for fire?
In addition to certification, a fire rated door usually requires the installation of additional specialty components. Make sure you know everything needed to achieve the desired final product.
Does the door achieve energy needs?
Energy codes differ from state to state. Code modifications and a complicated interaction within the building envelope can make door selection especially challenging. An expert may be needed to calculate energy efficiency.
Does this door suit the facility's purpose?
The wrong door can often be deceptively appealing. For example, doors with wind clips sound like good protection from wind damage, but because its operation may be compromised in sustained high wind, a fire station or hospital makes for a bad fit. Be sure the end user understands what he is buying, especially if it's a unique product application.
Have we accounted for all operating components?
This question isn't really fair since door options can seem nearly endless. But it's important to cross those T's and dot the I's. Double check the access system, overhead needs, lighting, sprinklers, heat/AC, and anything else that may come into play.
See original post here: http://blog.starbuildings.com/6-questions-to-ask-before-purchasing-a-door/
Talk to Us Today!
Stewart Zentner
General Manager
Toll Free: 1-888-826-1799
Contact Us: HERE